Moms have one of the most important jobs in the world, yet sometimes they can feel discouraged and overwhelmed. In Pocket Prayers for Moms, bestselling author and encourager Max Lucado points to the peace and strength that Jesus offers in 40 selected Scriptures and guided prayers.
Dads wear many hats. From protector to playmate, confidante to counselor. No matter the role, families rely on dads to lead with strength and faith. And in Pocket Prayers for Dads, Max Lucado offers forty scriptures and guided prayers that will help dads do just that.
Some friends are closer than family. They weave their way into our lives, there to celebrate the highs and comfort us through the lows. And for those special friends, Max Lucado offers forty scriptures and guided prayers that bring joy and serenity in Pocket Prayers for Friends.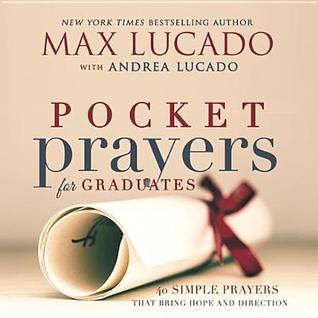 Graduation is one of life s most exciting milestones. It can also be a source of uncertainty and anxiety. What comes after graduation day? More education? A career? Starting a family? Often this time in life can bring more questions than answers, but Max Lucado offers hope and direction by pointing to the Answer to all of life s question. Pocket Prayers for Graduates includes forty scriptures and guided prayers written especially for those considering their futures post-graduation."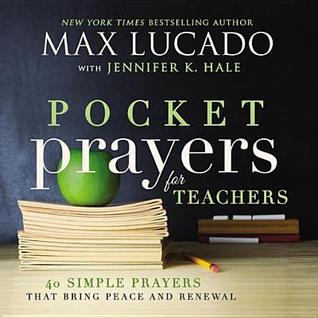 All the way from coloring inside the lines to calculus, teachers have given us the tools to thrive. Where would we be without them? But a teacher s job is often a difficult one. Sometimes anxiety and exhaustion become the norm. For those in need of a little peace and renewal, Max Lucado points to the Teacher who offered just that. Pocket Prayers for Teachers contains forty scriptures and guided prayers written especially for those special people, who encourage and inspire our students."
Daily life for those in the military and their loved ones at home can be filled with rapid change, fear, and uncertainty. For those bravely sacrificing for our country, bestselling author, Max Lucado, offers words of hope, pointing them to the Source of faith and courage. Pocket Prayers for the Military contains forty scriptures and guided prayers that will help readers face the unique challenges of military life with courage and faith.
My Thoughts:
What a wonderful collection!!
Max Lucado

in

collaboration of

other authors

brings us 6 unique books that individually and collectively address prayer.
Each book measures:
5.40 X 5.40 (inches)
Format:
Hardbook or ebook
Length:
112 pages
Each books comes with 40 selected scriptures and guided prayers.
Myself, as a mother, I focused mostly on the Pocket Prayers for Moms.
It consists of 6 sections that addresses specific prayers and they are

:
Prayers for Tim
e and Peace
Prayers for Protection and Surrender
Prayers for Guidance and Clarity
Prayers for Love and Marriage
Prayers for Healing and Safety
Prayers for Grace and Stren

gth
Each section consists of 5 to 7 scriptures that pertain to the titled section al

ong with a guided prayer.
As I said there are a total of six books that can be bought individually or collectively. My first thought when I saw these books were how beautiful the covers are

.
The size of the books makes if convenient for travel as they are small enough to take anywhere. Space

is provided on each page to jot down notes if you so desire.
These books are perfect gift for anyone or to keep for yourself. For instance I could see the Pocket Prayers for Moms perfect for a new or struggling mom, Prayers for Military Life would be perfect for the military family or in a care package for the soldier actively serving, Prayers for Dads would be perfect for the new dad or even as a father's day gift, with graduation upon us this would be perfect for the graduate as a gift, Prayers for Teachers is perfect for anytime because of their hard work and sacrifice or maybe the individual just starting their teaching

career

, lastly Prayers for

Friends

is also perfect for anytime or maybe if they are experiencing a difficult event in their life. When I first received this collection my first thought was Prayers for Teachers would be a perfect gift for my daughter who will be graduating and teaching high school English, the Prayers for a Graduate I will be giving to a young man at church who will graduate from high school and heading off to college in the fall. Prayers for Mo

ms and Dads

I will be giving to a young couple in our church who is expecting their first child in July, Pocket Prayers for friends I will be sharing with a close friend of mine who is going through an unexpected divorce, and lastly I will give Pocket Prayers for the Military to a young man who has just enlisted in

the Marines.
*I received these books from the publisher via Litfuse as part of their blogger program and book tour. I was not required to write a positive review. All thoughts and opinions are m

y own.
Max Lucado's
POCKET PRAYERS
Prize Pack Giveaway
Enter to win a Pocket Prayers prize pack—two winners will be chosen! Each prize pack contains all six of the new Pocket Prayers books, a signed copy of
Before Amen
, and a custom Pocket Prayers paperweight. The winners will be announced May 2 on
the Litfuse blog!
Meet the

Author:
More than 120 million readers have found inspiration and encouragement in the writings of Max Lucado. He lives with his wife, Denalyn, and their mischievous mutt, Andy, in San Antonio, Texas, where he serves the people of Oak Hills Church.
Find out more about Max at https://maxlucado.com/
Connect Online:
Facebook
Twitter
Pinterest