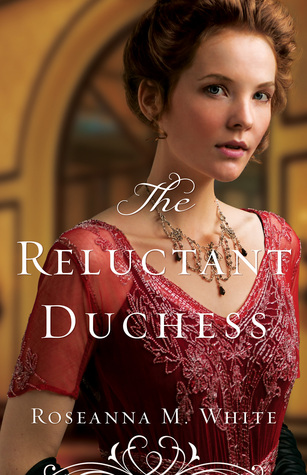 by Bethany House Publishers
Will Fleeing the Scottish Highlands Only Leave Her in More Danger?

Lady Rowena Kinnaird may be the heiress to a Highland earldom, but she's never felt good enough--not for her father, not for the man she thought she'd marry, not for God. But after a shocking attack, she's willing to be forever an outcast if it means escaping those threatening her life.

Brice Myerston, the Duke of Nottingham, has never been one to shy away from manor-born ladies, yet the last thing he needs is the distraction of the newly introduced Lady Rowena. He has enough on his plate having recently come into possession of a rare treasure for which many would kill, yet those around him seem intent on pairing him with this desperate but beguiling girl.

Rowena is reluctant to marry this notorious flirt. And when she learns that Brice is mixed up in some kind of questionable business with a stolen treasure, she fears she'll end up in more danger than she fled.
Available for Purchase:
AMAZON | BARNES & NOBLE | CHRISTIANBOOK
BAKER RETAIL
Meet the Author:
Roseanna M. White pens her novels beneath her Betsy Ross flag, with her Jane Austen action figure watching over her. When not writing fiction, she's homeschooling her two children, editing and designing, and pretending her house will clean itself. Roseanna is the author of nine novels, ranging from biblical fiction to American-set romances to her new British series. Roseanna lives with her family in West Virginia.
Connect Online:
Website
Facebook
Twitter
My Thoughts:
Oh my, what a wonderful story.
This Edwardian romance brings elements of suspense, mystery, romance, folklore and and lots of faith. This is the second book in the Ladies of the Manor series. I have not read the first book, so that leads me to feel this is a stand alone story.
Rowena Kinnaird is a very complex character with very real issues. She grew up in the Scottish Highlands as the heiress to the earldom. At a young age she was a happy, carefree child, but one summer her life changed and so did the child.
As she grew her greatest hope was to find someone who would love her and she thought she had found that in Malcolm until he viciously violated her heart, trust and even her body. Seeing the true man she knew she could never marry him and looked for avenues of escape. The one forced upon her was not the one she would have chosen. Suddenly she's thrust into a world she knows very little about. Suspense and intrigue follow every footstep she makes.
Brice Myerton, Duke of Nottingham, stole my hear when he first emerges in the story. He's a notorious flirt, but his faith in God is unshakeable. He always asks and follows God's direction. He offers to help Rowena in any way he can, but what he wants most of all is her trust/love which maybe the one thing she can't give.
This is an intriguing story that broaches some tough issues, but are resolved realistically. The plot is steady. The characters emotions are real and raw where you can feel the turmoil of the characters. There are twists and turns and the characters find things more complicated than they had ever imagined which compelled me to keep turning the pages. This is a book I would recommend to anyone who loves suspense or romance.
**I received this book from the publisher for a honest review without bias or outside influence. I was not required to write a positive review. All thoughts and opinions are my own.
Coming in Sept. 2016 the third book in the Ladies of the Manor:
Lady Ella Myerston can always find a reason to smile--even if it's just in hope that tomorrow will be better than today. All her life everyone has tried to protect her from the realities of the world, but Ella knows very well the danger that has haunted her brother and their friend, and she won't wait for it to strike again. She intends to take action . . . and if that happens to involve an adventurous trip to the Cotswolds, then so much the better.
Lord Cayton has already broken two hearts, including that of his first wife, who died before he could convince himself to love her. Now he's determined to live a better life. But that proves complicated when old friends arrive on the scene and try to threaten him into a life of crime. He does his best to remove the intriguing Lady Ella from danger, but the stubborn girl won't budge. How else can he redeem himself, though, but by saving her--and his daughter--from those dangerous people who seem ready to destroy them all?