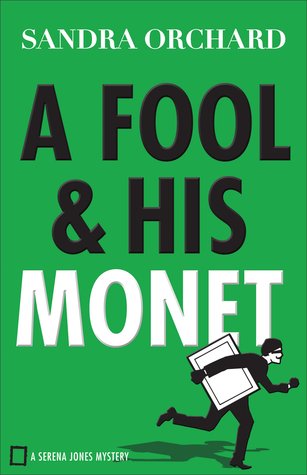 Serena Jones has a passion for recovering lost and stolen art--one that's surpassed only by her zeal to uncover the truth about the art thief who murdered her grandfather. She's joined the FBI Art Crime Team with the secret hope that one of her cases will lead to his killer. Now, despite her mother's pleas to do something safer--like get married--Serena's learning how to go undercover to catch thieves and black market traders.

When a local museum discovers an irreplaceable Monet missing, Jones leaps into action. The clues point in different directions, and her boss orders her to cease investigating her most promising suspect. But determined to solve the case and perhaps discover another clue in her grandfather's murder, she pushes ahead, regardless of the danger.
Life beats us down and crushes

the soul,
while art reminds us we have one.
~Stella Adler
My Thoughts:
What an incredible mystery/suspense interlaced with lo

ts of humor and hints of a romance.
Serena Jones is the youngest agent with the FBI: Art Crime Team, single and married to the job. Oh yes, she has a cat, Harold, of whom she inherited from her great aunt Martha along with the apartment she is now living in. Serena's mom wanted her to quit her job, get married and start producing grandchildren in that order. Aunt Martha was not living with Serena's parents recovering from hip surger

y.
She has recently returned to St. Louis after being in an undercover sting in Buffalo that didn't go as planned, but still turned out alright. Fellow agent, Tranner Calhoun, arrives in time to pick her up at the airport. It was unexpected, but appreciated given she was still spooked for the undercover assignment.
She is informed of a resent discovery of a theft from the Forest Park Art Museum by Zoe Davids, head of security. Missing was a Monet worth over 6 figures and a Rijckaert. The Monet should be fairly easy traced because of its value, but the Rijckaert might not be. Lots of man, or should I say woman, hours would be clocked in during this investigation, but Serena didn't mind

, in fact she looked forward to it.
First thing was narrowing down the time the theft could have occurred and get a list of suspects. Theft of this kind usually points to an inside job or in other words an employee of the museum. Important factors brought to the surface lead her to believe that this was probably an inside job, but each lead

was producing very little results.
This

is a great story. I loved it.
This is the first book in the Serena Jones Mystery series from

Sandra Orchard.
When I first picked it up I wasn't so sure I would like it and I will be honest in that I thought maybe it was because I wasn't crazy about the cover. It just seems kind of generic to me. The story is a mystery/suspense interlaced with lots of humor and just a hint of a romance. I was pulled into the story from the very first sentence

,
"I should have l

istened to my mother."
I can't tell you the number of times I have uttered these same words. This intrigued me and I wante

d to find out more about Serena.
As the story moved along I found myself actually laughing out loud at Aunt Martha and her sleuthing skills. I truly believe everyone need a matching making momma and an Aunt Martha. The pace is consistent with twi

sts and turns never expected.
Serena has several gentlemen she is attracted to for one reason or another, but nothing is ever acted on so you don't know which one she favors. Tanner seems to understand her thin

king

and seems very protective of her. They work together and he is 10 years her senior. Nate, whom she just met, has a lot of common interests with her, but she doesn't know him as well and also he's her building superin

dent.
I would recommend this book to anyone who loves a good myster

y.
*I received the book from the publisher as part of their book bloggers program. I was not required to w

rite a positive review.
I look forward to next book which will be released in the fall of 2016

.
Available for Purchase:
AMAZON | BARNES & NOBLE
|
BAKER RETAIL
CHRISTIANBOOK
Meet the Author:
Sandra Orchard is the award-winning author of many inspirational romantic suspense and mysteries, including Deadly Devotion, Blind Trust, and Desperate Measures. Her writing has garnered several Canadian Christian Writing Awards, a Romantic Times Reviewers' Choice Award, a National Readers' Choice Award, a HOLT Medallion Award of Merit, and a Daphne du Maurier Award for Excellence in Mystery/Suspense. In addition to her busy writing schedule, Sandra enjoys speaking at events and teaching writing workshops. She lives in Ontario, Canada. Learn more about Sandra's books and check out the special bonus features, such as deleted scenes and location pics, at http://sandraorchard.com.