At Love's Bidding
After helping her grandfather at their Boston auction house, Miranda Wimplegate discovers she's accidentally sold a powerful family's prized portrait to an anonymous bidder. Desperate to appease the furious family, her grandfather tracks it to the Missouri Ozarks and makes an outlandish offer to buy the local auction house if they promise not to sell anything until he arrives.

Upon their arrival, however, they discover their new business doesn't deal in fine antiques, but in livestock. And its manager, ruggedly handsome Wyatt Ballentine, is frustrated to discover his fussy new bosses don't know a thing about the business he's single-handedly kept afloat. Faced with more cattle than they can count--but no mysterious painting--Miranda and Wyatt form an unlikely but charged partnership to try and salvage a bad situation getting worse.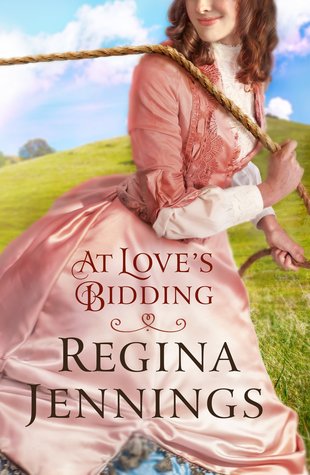 Published December 1st 2015
On wow, Regina Jennings has written another hit!
She takes the reader on an adventure from Boston to the Ozark Mountains in Missouri in this historical romance.
We are introduced to two lovable characters, Miranda Wimplegate and Wyatt Ballentine, and a host of other quirky characters. There
's good flow and pace that kept my attention.
Miranda is a Boston born, young woman who has spent her life hiding in the shadows so to speak. Some would say she is shy, but to me she she was someone who had never taken any chances or asserted herself. She has always bowed to others' decisions and is lacking self confidence.
Wyatt has always felt like an outsider. He was orphaned at a young age and taken in by a wonderful family. The Ballentine's attempted to reach his extended family in Boston to only be told he was not a legitimate family member and they were not interested in him. Wyatt grew up feeling rejected by one family, but accepted by his foster mother and father.
When a valuable painting is accidentally auctioned off Miranda and her grandfather follow leads in order to get not only the painting back, but also to protect their good name in business. The first order of business is to follow the lead on the painting and that leads to an auction house in Pine Gap, Missouri. Grandfather has procured the auction house, sight unseen, and intends to go there to retrieve the painting before anything can happen to it. Unfortunately this auction house is nothing they have encountered before, it sells animals. Upon their arrival it seems that things go from bad to worse. Grandfather's health starts a sudden decline. Miranda suddenly finds herself in the position of not only voicing her opinions, but also at times taking charge.
This is a wonderful story. It is a combination of humor, romance and intrigue. There's a mystery to be solved, but Miranda does something more than solving a mystery. This young woman finally finds her true self. This is an engaging plot with well developed characters.
This is a book I would recommend to anyone who loves a good romance, humor and a plot twist.
I received this book from the publisher as part of their book blogging program for a honest review. I was not required to write a positive review. I thank them for this opportunity.
Available: