Chance of Loving You
An anthology by three bestselling romance authors

For Love of Money by Terri Blackstock
Trying to launch her own design firm while waitressing on the side, Julie Sheffield was drawn to the kind man she waited on at the restaurant last night . . . until he stiffed her on the tip by leaving her half of a sweepstakes ticket.

The Recipe by Candace Calvert
Hospital dietary assistant Aimee Curran is determined to win the Vegan Valentine Bake-Off to prove she's finally found her calling. But while caring for one of her patients—the elderly grandmother of a handsome CSI photographer—Aimee begins to question where she belongs.

Hook, Line & Sinker by Susan May Warren
Grad student Abigail Cushman has agreed to enter the annual Deep Haven fishing contest. She's a quick learner, even if she doesn't know the difference between a bass and a trout. But nothing could prepare her for competing against the handsome charmer she's tried to forget since grief tore them apart.

One chance for each woman to change her life . . . but will love be the real prize?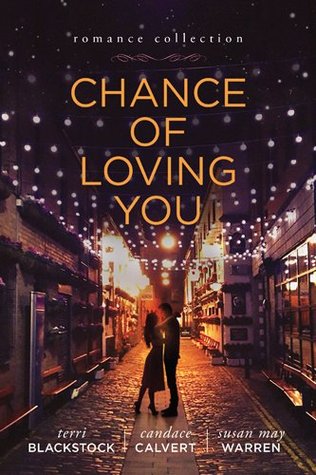 Published May 1st 2015
by Tyndale House Publishers, Inc.
5 Stars
Okay so I know it comes as no shock to say I absolutely love Candace Calvert's writing. All you have to do is look back through my blog and see that every time one of her books release I am anxious to read it. So needless to say when she announced she was doing a book collaboration I could hardly wait to read it. Yes, I know I it was released it May and I'm just now reviewing it, but I must admit my TBR stack keeps getting bigger and bigger. Also "darling daughter" came home from college for the summer and we spent time catching up and getting ready for this fall semester. To say the summer was busy is an understatement. As summer progressed, very quickly I might add, I found with the start of school that I had more free time to read. With the "darling boy" starting high school this year and taking chemistry honors and AP Human Geography I'm really not certain how long my free time will last though.
So with my free time and feeling somewhat lonely I decided to make new friends and picked up Chance of Loving You. Needless to say I couldn't put it down until I turned the very last page.
This is a wonderful collection!
I know everyone who picks up a book usually looks for a good story and I am the same. These three met all my requirements for a great book.
-They are all well written.
-The characters are well developed.
-The story lines will readily pull you in and keep you turning the pages.
-Most importantly they give a good message about faith.
For Love of Money reminded me about trust. We must always pray for guidance in all we do. Yes, our faith is important, but we must also trust that God is there walking with us.
The Recipe reminded me that sometimes what we think is the path to follow is not the path God has planned for us. If we listen he will point us in the direction he wants us to go.
Hook, Line and Sinker reminded me about forgiveness. Sometimes we not only have to forgive others, but also forgive ourselves for something.
Each story brings us a sweet romance. I would recommend this book to anyone.
Terri Blackstock
http://www.terriblackstock.com/
http://www.candacecalvert.com/