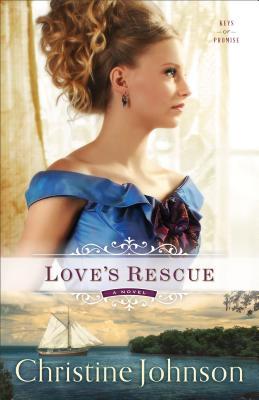 Published June 2, 2015
Publisher: Revell
When her mother dies, Elizabeth Benjamin heads home to Key West, determined to transform herself into the perfect Southern belle her parents always wished her to be. But nothing goes according to plan. Her crippled brother resents her, the servants do not obey her, and Rourke O'Malley, the dashing man she vowed to forget, refuses to relinquish his hold on her heart. Worst of all, it becomes painfully obvious that her father is not the upright man he appears to be.
As family secrets come to light, Elizabeth is faced with a difficult choice: to do her duty and abandon her dreams, or to leave her life of privilege behind to chase the man her father sees as little better than a pirate.
From the first emotional page, author Christine Johnson throws readers into a world of impossible choices, hidden desires, and heart-melting romance in the steamy south. Readers will cheer for Elizabeth and Rourke as they battle the odds and the elements to secure their future.
What a wonderful story!!!!!!
Yes, if you like historical romance then I would definitely recommend it. Christine Johnson takes the reader to Key West, Florida during the mid 1800's and give them a glimpse of the unrest in the area experienced while trying to rebuild after a hurricane struck 4 years earlier.
We are introduced to Elizabeth Benjamin and Rourke O'Malley.
4 years ago Elizabeth made a rash decision that could have cost her not only her life, but also that of her brother, Charlie, if not for Rourke's timely intervention. Just days later she was sent to Charleston to find a proper husband at her parents' request. Elizabeth's heart has always belonged to one man and she has not meet anyone who can replace him or his memory. Upon hearing of her mother's death she returns to the Keys and vows to follow her father's wishes. She hopes to make up for all the pain she caused years ago.
I was drawn to Elizabeth's character immediately. She is a lovely, young woman who wants to make amends for the pain she has caused, but she also is trying to figure out exactly where she fits in at home. Unfortunately while grieving the loss of her mother she is put in an unwanted position by her father. She has always wanted her father's approval, but is she willing to sacrifice her life to fulfill his wishes. Suddenly family secrets are revealed and Elizabeth realizes she must make a decision, but what will she choose?
This is a story about forgiveness and hope. I really liked this story a lot. I was cheering for Elizabeth and Rourke through the entire story.
This is the first story I've ready by the author, but it definitely won't be the last.
I received this book from Revell for a honest review without bias or outside influence. All thoughts and opinions are my own.