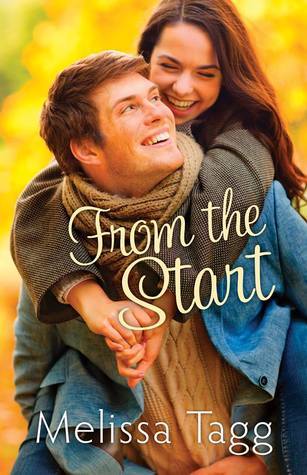 Publisher: Bethany House Publishers
Release Date: March 31, 2015
I have been a fan of Melissa Tagg since reading her first book, Made to Last. When given the opportunity to read this book prior to release date for a honest and unbiased opinion I said YES!!! I love the way she brings to life her characters and the community with her writing. Here's a brief description of her latest release:
Kate Walker used to believe in true love and happily ever after. While her own love life may have left her brokenhearted, it hasn't kept her from churning out made-for-TV romance movie screenplays...until a major career slump and a longing to do something meaningful send her running back to her hometown of Maple Valley.

Permanently sidelined by an injury, former NFL quarterback Colton Greene is temporarily hiding out in a friend's hometown to avoid the media and the reminders of all he's lost. Maple Valley seems like the perfect place to learn how to adjust to normal life. The only trouble is he's never really done normal before.

While Kate plays things safe and Colton is all about big risks and grand gestures, they both get what it's like to desperately need direction in life. An unexpected project gives them both a chance to jumpstart their new lives, but old wounds and new dreams are hard to ignore. Starting over wasn't part of the plan, but could it be the best thing that's ever happened to them?
I loved this book. We are introduced to two, strong characters that have been carrying around a lot of emotional baggage and must come to terms with it before moving on to new beginnings in their life. We meet Kate Walker who has had two heart breaks in her life. I believe the first one is real. She lost her mother and I think lost her footing. She believes in true love/romance because she witnessed it first hand through her parents. Kate is very vulnerable due to a hurt in the past and tends to not let anyone get too close. Colton Greene is another troubled soul. Having his parents killed at a young age and being placed in foster care has been an unknown driving factor in his life. Suddenly after a big injury on the field he's at loose ends. He is looking for a direction in his life, but is truly not looking the right way. Colton heads to Maple Valley with his best friend and college roommate, Logan, after a tornado has swept through the area to help with the clean up. He finds much more than he ever imagined. He finds a place that he could call home and a certain amount of peace, but how long will that last. Logan takes everything at surface value and tries not to dig too deep for fear of what he might discover. One of my favorite parts of the book is when Colton finally admits to Case Walker that he's basically lost and not sure which direction his life is to go. Case tells him a story about a former wide receiver who went to coach the Colts back in the '50's or '60's. The story talks about living a life of precision within the boundaries you set for yourself and how you limit yourself by this. He went on to explain that you need to pray, look to God for direction and trust that he will lead you where he wants you to go.
For me this book was so different from Melissa Tagg's previous writings. It has a more intimate feel to it, and by that I mean she pulls the reader deeply into the characters psyche more than ever before. After reading this book I begun to question a lot of the decisions I've made in my life and wondered if it's the direction God wanted me to go or did I follow what was in my heart.
This is a wonderful book and I would recommend it to anyone. I was given this book via the publisher/author for a honest opinion without bias as stated above.
Other books by Melissa Tagg include:
Melissa Tagg, author of
Made to Last
and
Here to Stay
, is a former reporter and total Iowa girl. In addition to her homeless ministry day job, she is also the marketing/events coordinator for
My Book Therapy
, a craft and coaching community for writers. When she's not writing, she can be found hanging out with the coolest family ever,

watching

old movies, and daydreaming about her next book. She's passionate about humor, grace, and happy endings. Melissa blogs regularly and loves connecting with readers at www.melissatagg.com.