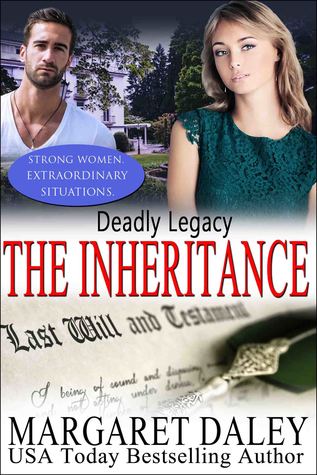 Legacy of Secrets. Threats and Danger. Second Chances.
Down on her luck, single mom, Lacey St. John, believes her life has finally changed for the better when she receives an inheritance from a wealthy stranger. Her ancestral home she'd thought forever lost has been transformed into a lucrative bed and breakfast guaranteed to bring much-needed financial security. Her happiness is complete until strange happenings erode her sense of well being. When her life is threatened, she turns to neighbor and police detective, Ryan McNeil, for help. He promises to solve the mystery of who's ruining her newfound peace of mind, but when her troubles escalate to the point that her every move leads to danger, she's unsure who to trust. Is the strong, capable neighbor she's falling for as amazing as he seems? Or could he be the man who wants her dead?
Available for Purchase:

Meet the Author:


Margaret Daley is an award winning, multi-published author in the romance genre. One of her romantic suspense books, Hearts on the Line, won the American Christian Fiction Writers' Book of the Year Contest. Recently she has won the Golden Quill Contest, FHL's Inspirational Readers' Choice Contest, Winter Rose Contest, Holt Medallion and the Barclay Gold Contest. She wrote for various secular publishers before the Lord led her to the Christian romance market. She currently writes inspirational romance and romantic suspense books for the Steeple Hill Love Inspired lines, romantic suspense for Abingdon Press and historical romance for Summerside Press. She has sold ninety-two books to date.
Margaret was the President for American Christian Fiction Writers (ACFW), an organization of over 2600 members. She was one of the founding members of the first ACFW local chapter, WIN in Oklahoma. She has taught numerous classes for online groups, ACFW and RWA chapters. She enjoys mentoring other authors.
Until she retired a few years ago, she was a teacher of students with special needs for twenty-seven years and volunteered with Special Olympics as a coach. She currently is on the Outreach committee at her church, working on several projects in her community as well as serving on her church's vestry.
On a more personal note, she has been married for over forty years to Mike and has one son and four granddaughters. She treasures her time with her family and friends.
Connect Online:
My Thoughts:
For me this was a wonderful read!!
I always know when I pick up one of Margaret Daley's books that I'm in for a real treat. She creates a plot and characters that will pull me into the story quickly and keep me entertained until

the last page is turned.
Strong Women, Extraordinary Situations is a series that highlight the strength and

resilience of a woman when she is tested.

The story, which is the 7th book in the series, is about a young woman, Lacey St. John, who has a gift land in her lap that could benefit her family. She is a single mom who is struggling to provide a safe home for her son to grow up in, but in one sweep of benevolence from a stranger she is on her way back to her ancestral home of her childhood which was turned into a bed and breakfast approx

imately 19 years ago by the previous owner

. For her this means much more than one would think, but

the first thought is security.
Their arrival brings an influx of memories from Lacey's childhood where she spent many happy years. Calvert Cove was built in the 1870's, but several rooms were unused when she lived there as a child. The previous owner completed renovations when he obtained the property, but it was obvious a facelift was needed. Mrs. Bell, the manager, has already started the arrangements for this, but Lacey definitely wanted to put her

touch on the renovations also.
Suddenly strange occurrences start happening and Lacey turns to police detective and neighbor Ryan McNeil for much needed advice. Their attraction is instant. As feelings develop the biggest obstacle appears to be the strange occurrences are

getting scary and border on danger for both Lacey and her son.
Both the plot and characters quickly pulled me into the story. I loved the slow build of a relationship between Lacey and Ryan. To me it felt more realistic this way. This story brings elements of suspense, mystery, and romance. I would recommend this book to anyone

who loves a good suspense.
***I received this book from the author for a honest review without bias or outside inf

luence.