At this point in her life, bravery is not a trait Willa Hart would readily claim. She believes her seven-year-old daughter, Savannah, who never knew her father and successfully tackled chemotherapy, is truly the courageous one. Yet after Willa has a fateful encounter with handsome young doctor Patrick McCade, her outlook—and her view of herself—begins to change.
Patrick, a thrill-seeking world traveler and temporary resident of Lenox, Oregon, sets out to show Willa the value of adventure, even within her tiny town. But just when their friendship shows signs of turning into something more, Patrick's life as a traveling doctor calls him back. Will his last days in town signal the end of their journey, or will Patrick and Willa find the courage to transform a single season into a lifetime?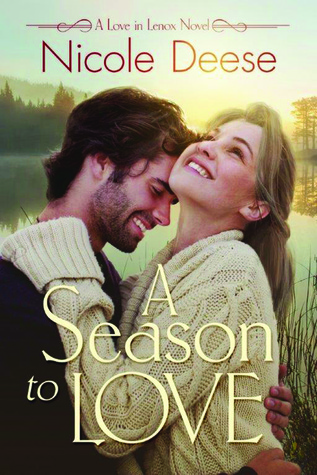 Published February 2nd 2016
5 Stars
My Thoughts:
Nicole Deese brings us a heart tugging story about a young woman and her struggle to regain control after multiple life altering events.
This is a story that touched me deeply. It reminded me that as you embrace change rather than resist it, you are evolving into something beautiful.
We meet Willa and Patrick who are very lovable characters that easily weave their way into your heart. Willa has been a single mother for the past 7 years after the death of her husband. Willa's daughter, Savannah, is recovering from

A

cute Lymphoblastic Leukemia. Willa took her in for a check up when abnormalities were noticed that lead to her diagnosis. Willa has learned that not only does life come with no guarantees, but also when you least expect it bad news can bring

you to the point of breaking.
Patrick has been taking short-term projects world wild for nonprofit organizations during natural disasters and epidemic outbreaks, but has recently arrived in Lenox to take over his dad's practice while he takes a vacation to Scotland. His first meeting with Willa doesn't go very well when she calls in to questions his ability to care

for her child.
This story is about learning to trust both in yourself and to some extent others. Mostly it's about letting go and having faith that God will see you through your difficult times. He doesn't promise us that we wouldn't have problems, but that during our problems he would be with us every step of the way. We just have to have faith and trust in him. This is a very sweet plot that flows effortlessly. The endearing characters engaged

me from page one.
Nicole D

eese is a new author for me and one that I will definitely look for again.
I

would recommend this wonderful story to anyone.
I received this book from the publisher via NetGalley for a honest

opinion. I was not required to write a positive review. All thoughts and opinions are my own.
Available for Purchase:
Amazon | Barnes & Noble | ChristianBook
Meet the Author: