After seven years as a Chicago homicide detective, Lisa Grant has hit a wall. Ready for a kinder, gentler life, she takes a job as a small-town police chief. But the discovery of a human skeleton by a construction crew at the edge of town taxes the resources of her department. A call for assistance brings detective Mac McGregor, an ex-Navy SEAL, to her doorstep. As they work to solve the mystery behind the unmarked grave, danger begins to shadow them. Someone doesn't want this dead person telling any tales--and will stop at nothing to make certain a life-shattering secret stays buried.
Master storyteller Irene Hannon is back with an exciting new series featuring former special forces operatives now in the thick of the action in civilian life. Hannon is at the top of her game in this can't-put-it-down thriller that will have readers up until the wee hours devouring every page.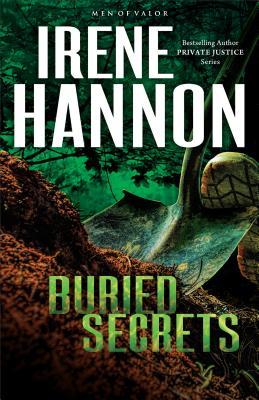 Published April 7th 2015
by Fleming H. Revell Company
4 Stars
While shopping during Christmas I picked this suspense up because I'm a huge fan of Irene Hannon's writing. She's a very versatile author being that she can write a good suspense or and touching romance, but when she combines the two I know I am in for an exceptional story. I was not disappointed in this book at all.
This is the first book in her Men of Valor series.
A wonderful book to start the series. The plot immediately pulled me in. Lisa Grant is the Chief of Police in Carson and there has been a discovery of a skeleton by a construction crew on the edge of town. She put in a call to County for some assistance and that came in the form of Mac McGregor, a detective for County. The plot has good pace that kept me turning the pages until the end.
Lisa Grant is a beautiful, young woman who has moved to Carson looking for a slower pace in law enforcement, but with limited resources she finds herself very busy. Mac is a former Navy SEAL. He's a person used to running the show, but understands he's at the scene to assist. I liked both characters immediately. Their determination to unravel a mystery showed their dedication to their professions. Unfortunately someone doesn't want this mystery solved and will go to any lengths to protect it.
Lisa and Mac have an instant attraction and full of romantic tension. I liked how Mac was protective of Lisa, yet he also let her be her own person.
This is a wonderful story that has a mystery and a romance and loaded with suspense. There's an intriguing plot twist that will keep you glued to the pages.
I would recommend this book to anyone who loves suspense.
Irene Hannon is a bestselling, award-winning author who took the publishing world by storm at the tender age of 10 with a sparkling piece of fiction that received national attention.
Okay…maybe that's a slight exaggeration. But she was one of the honorees in a complete-the-story contest conducted by a national children's magazine. And she likes to think of that as her "official" fiction-writing debut!
Since then, she has written more than 50 romantic suspense and contemporary romance/women's fiction novels. She is a seven-time finalist for and three-time winner of the RITA award—the "Oscar" of romance fiction—and a member of the Romance Writers of America Hall of Fame. Her books have also won a Daphne du Maurier award, two Carol awards, three HOLT Medallions, a National Readers' Choice award, a Retailers Choice award, two Booksellers' Best awards and two Reviewers' Choice awards from RT Book Reviews magazine. One of her novels was also named by Booklist as a top 10 inspirational fiction books of 2011. In addition, she is a two-time Christy award finalist.
Irene, who holds a B.A. in psychology and an M.A. in journalism, juggled two careers for many years until she gave up her executive corporate communications position with a Fortune 500 company to write full. She is happy to say she has no regrets!
In her spare time, she enjoys cooking, gardening and singing. A trained vocalist, she has sung the leading role in numerous musicals, including "South Pacific," "Brigadoon," "Oklahoma" "The King and I" and "Anything Goes." She is also a soloist at her church.
When not otherwise occupied, Irene and her husband enjoy traveling, Saturday mornings at their favorite coffee shop and spending time with family. They make their home in Missouri.
Connect Online: