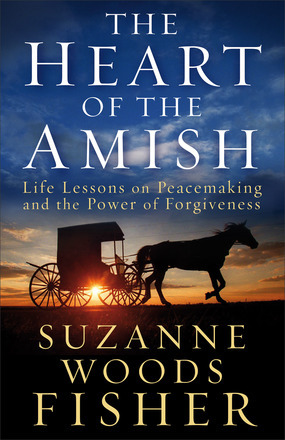 Published by Revell
Release Date: May 5, 2015
5 Stars
Brief Description:
Everyone has been hurt. Everyone experiences conflict, great and small. Everyone has someone to forgive. But sometimes we just can't bring ourselves to forgive someone who has wronged us or we don't take the need to forgive seriously--not like the Amish do. Forgiving others in order to live at peace is woven into the very fabric of their faith. To the Amish way of thinking, "You can't love the stream without knowing the source. " We must forgive others, they believe, because God forgave us.
"The Heart of the Amish" invites readers into the world of a people renowned for their ability to forgive. Through true stories gathered from a variety of Amish communities, bestselling author Suzanne Woods Fisher illustrates how they are able to release their pain and desire for revenge, and live at peace with others. Her in-depth, personal research uncovers the astounding yet fundamental way the Amish can forgive anyone from the angry customer at the grocery store to the shooter at Nickel Mines. Readers will learn how to invite God into "their" stories, apply lessons from the Amish to their own circumstances, and find the freedom that comes with true forgiveness.
I will be honest in that when I received this book I was unsure of exactly all it would be about. In the introduction the author tells the reader that this book will change their lives and it's true. A truly wonderful book.
The author explores the act of forgiveness from many, different angles and gives insight as to how a person may look at or handle forgiveness. Most Christians today believe that forgiveness begins with God forgiving them, but the author gives us a perspective of how Amish view forgiveness and how we might apply it to our own lives. She is not in any way suggesting that we live an Amish live, but that in using the principals or applying them can lead them to a more peaceful life.
Forgiveness is woven into the very everyday life of the Amish and they believe that to forgive is to follow Jesus's instructions on forgiveness and His example. The Amish rests on the literal interpretation of
Matt. 6:14-15
"For if ye forgive men their trespasses, your heavenly Father will also forgive you: But if you forgive not men their trespasses, neither will your Father forgive you trespasses." (KJV)
This book is divided into two sections. Each sections is divided into stories or scenarios of an encounter that requires forgiveness. At the end of each story the author gives us an area of reflection. This area, for me, is designed to ask questions or give insight into how to handle the situation from a variety of different angles. It's an area for the reader to reflect on how they might handle the situation that could bring a peaceable closer. Then there is an area called "Plain Truth" which gives the reader an insight into some Amish facts.
I think this is a wonderful book for anyone. The author has put a lot of research into this book. We all have something or someone that we need to forgive within our lives. This book will help in your everyday lives to put forgiveness into perspective so that you may have a happier life. I love the layout of the book, because in each story you are given the opportunity to reflect on how you might handle each scenario and give time for reflection. I would recommend this book to anyone. Regardless is you have something large or small in your life nudging you, let this book help you explore it and learn how to deal with it.
I received this book from Revell to give a honest review without bias or outside influences as stated above. All thoughts and opinions are my own.
Meet the Author
http://suzannewoodsfisher.com/