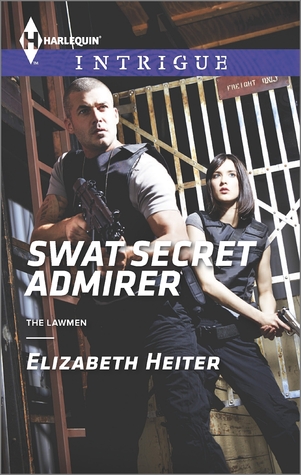 Publisher: Harlequin Intrigue
Elizabeth Heiter brings us the final book in The Lawmen series which is due for release April 1, 2015 and it was definitely worth the wait.
Here's the book description:
A predator is no match for her protector…
It's been ten years since the attack that drove Maggie Delacorte to become an FBI SWAT agent. She's an elite fighter now—and when the Fishhook Rapist sends her a letter saying he's coming back for her, she knows she has to find him first. Her teammate Grant Larkin is assigned to the case, and he's determined to protect Maggie, even if it damages the connection that's been growing between them. And even if her attacker has decided that the way to get to Maggie is by targeting the people she cares about. Her feelings for Grant could get him killed, but she needs him —and his love—to make it through the worst danger yet....




This series will take you on an emotional rollercoaster ride. Let me give you a little background.
This series centers around 3 friends who grew up in a small farming town in Indiana. Scott is the older brother of Maggie who is best friends with Ella. Maggie and Ella are roommates at college and one night during their senior year Maggie fails to return to the dorm. This night will change the life of these three friends forever.
Maggie, Ella and Scott are make a pact to find out who is behind this terrible crime. All three went into the FBI, Ella as a negotiator, Scott as a trained sniper and Maggie became a FBI SWAT agent. Maggie has been with the Washington Field Office's SWAT team for four years and has gained the respect of her teammates. The one thing Maggie was not and that was vulnerable. She promised herself ten years ago that she would never be a victim again. She has honed her skills and was prepared for anything, or at least she thought.
Grant Larkin had been with the Washington Field Office for 9 months and had developed a friendship and attraction to Maggie, but the attraction couldn't be acted on with both working for the same department. Yeah, he had heard all the rumors about the Fishhook Rapist and Maggie's involvement, but that didn't factor into either their friendship or his attraction.
I loved this book. The author does an excellent job bringing closure to the series. I like Maggie a lot and have respect for the way she has not let this incident actually define her as a person. She is seeking justice and makes life plan changes which shows a lot of courage and strength. Grant is a guy anyone could love. He doesn't look at the past and judge someone, but rather looks at what he sees in their actions. He hides the pain he feels when he sees Maggie's past and vows to get justice for her. I love this author's stories because they really bring out a lot of emotions in the reader. She brings engaging story lines, wonderfully developed characters and lots of suspense. I would recommend this book and series to anyone who likes suspense or romance.
*Disclaimer: I was given this book by the author for a honest review without bias as stated above.
Here are the first two in her series:


Let me introduce you to the author:

Elizabeth graduated from the University of Michigan with a degree in English Literature. She's a member of International Thriller Writers and Romance Writers of America.