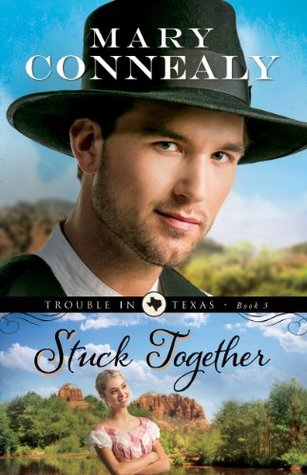 5 Stars
Tina Cahill, newly arrived from the East, is determined to get the saloon in Broken Wheel, Texas, closed for good. To that end, she pickets outside the place every afternoon. Unfortunately, so far no one has paid any attention.

Vince Yates earned the nickname "Invincible Vince" because of his reputation for letting absolutely nothing stop him. Not his tyrant of a father. Nor the injuries he suffered in the Civil War. Nor the fact that he is Broken Wheel's only attorney and sheriff yet has no law degree.

But Vince is about to face his biggest challenge yet: his past has just caught up with him. His father, mother, and the sister he didn't know he had show up in Broken Wheel without warning. His father is still a schemer. His mother is suffering signs of dementia. And his surprise sister immediately falls for one of Vince's best friends. Vince has a lot of people to take care of, and Tina doesn't approve of how he's handling any of them. But with almost all the other men in town married off, Vince finds himself stuck with feisty Tina over and over again. Of course, Tina is the prettiest woman he's ever seen, so if he could just get her to give up her causes, he might go ahead and propose. But he's got one more surprise coming his way: Tina's picketing at the saloon has revealed a dark secret that could put everyone Vince loves in danger.
I always know when I pick up a Mary Connealy book that I am in for a good read and this one was no different. A historical romance interlaced with both humor and a little mystery, this is the third installment in the Trouble in Texas series, but this book can stand alone, in other words reading the previous books in the series is not necessary. When I get a book I literally pick it apart always starting with the cover. This one has such vivid colors and the characters personalities are portrayed by the models. I loved the dedication the author gives.
When I began the story I don't know if it was the imagery, the storyline, or the characters that pulled me into the story, but I suspect it was all three. We are introduced to Tina Cahill who is struggling with abandonment issues. As a young girl she was left orphaned and with her brother, Jonas, off at war Tina had to go live with an older, opinionated aunt. She has recently moved to Broken Wheel, Texas to live with her brother. At present she is on a mission and that is to shut down Duffy's Tavern, thus far she has had little success. Tina is character that anyone can love, but at the same time get a little frustrated with. She is very head strong, but her heart is always in the right place. She is constantly putting others before herself.
Next we meet Vincent "Vince" Yates the local law officer, who serves as an attorney and the sheriff. Vince and his friends moved to the out of the way place after the war and being POW's of Andersonville. They had all learned what it took to survive, but nothing had prepared him for Tina Cahill. She made him yearn for things he knew he could never have, a wife and family. When his family mysteriously shows up and brings with it a new set of problems for him to deal with. I loved his character and how he also was trying to take care of everyone. Vince is the kind of guy that could sneak up and steal a girl's heart before she even realizes it.
This is a wonderful story and I was pulled into it from page one. The author's wonderful use of imagery makes you feel that your actually right in the story as a bystander. I would recommend this book to anyone.
I was given this book by Bethany House for a honest review without any outside influences as you seen above.
Mary Connealy writes romantic comedy...with cowboys.
She is a Carol Award winner, and a Rita and Christy and Inspirational Reader's Choice finalist.
She is the author of bestselling Kincaid Brides Series: Out of Control, In Too Deep, Over the Edge. Her work also includes Lassoed in Texas Trilogy, Montana Marriages Trilogy and Sophie's Daughters Trilogy.
She also wrote Ten Plagues--a romantic thriller, and The Historical Society Murders--three cozy mysteries, under the name Mary Nealy.
Mary is married to a Nebraska rancher and has four grown daughters and two spectacular grandchildren.
Contact Info: