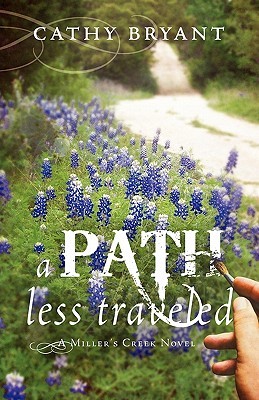 Trust in the Lord with all your heart, and lean not on your own understanding: in all ways acknowledge Him, and He shall direct your paths.
Book 2 Miller Creek Series
A widow, her traumatized son, & the man who loves them both…
Trish James shoulders a secret, while her son wrestles with his daddy's death.
Andy Tyler conceals his own haunting past, but becomes a father-figure for her daddy-starved little boy and helps him through the psychological trauma.
Trish is determined to forge a path for her son, but will that mean leaving Miller's Creek? Or is God leading her to…a path less traveled?
We met Trish James in Texas Roads as a vivacious, young woman married to the local vet and the mother of a precious little boy. Her life has changed in unimaginable ways. This is a wonderful story about trying to find your path after suffering a terrible loss. When a couple gets married part of the vows are "in sickness and health until death us do part", I don't think a lot of people actually think the death part will occur for many years, but the fact is no one is promised tomorrow. Unfortunately for Trish she faced that part much sooner than anyone expected. Her loss of Doc in a tragic accident has not only rocked her very core, but now she is facing a life she was never prepared foe. During her husband's hospitalization she had let his insurance policy lapse so now she is facing a lot of bills coming in, but no money coming in to pay them. Trish feels that she is an adult and it is her responsibility to shoulder problems alone and figure out how to solve them. Pride can be a hard thing to put aside.
Andy Tyler is an attorney in Dallas and friends with Dani and Steve, Trish's brother and girlfriend) so it's only natural that he come for their wedding. Upon his arrival he is drafted into helping Trish decorate the chapel and as they spend time together he begins to get to know her a little better. Andy sees a beautiful woman who is grieving for her husband, but also having more problems than anyone suspects. He wants to help her if she would only let him. He is emotionally pulled to her young son and the pain he is experiencing. I like Andy. He has lived a life that he had dreamed of, but at the same time feels that is unfulfilling. The one thing he has always yearned for is a family of his own. He was a Christian early in life, but veered away from God. Recently he has turned his life back over to God and is trying to travel the path he's meant to be on with guidance from the Lord.
I had much empathy for Trish and all that she is enduring, but at the same time I would get angry when she didn't see what was right before her eyes. She was so burdened by her own grief and problems that she couldn't see how her actions were affecting her son. I just wanted to pick that little boy up and hold him close. She was having a crisis of faith, but didn't see it. She felt God was leading her in the direction she was following, but she never fully opens her heart to his guidance. Andy, I immediately liked him. He was trying to help Trish and he son, but also giving her the choice in her decisions. Just when I thought Andy had enough he would surprise me yet again.
I gave this book 5 stars because I loved it. Yes, it's an emotional journey the characters take and they pull the reader into that journey, but it's a trip definitely worth taking. This author brings strong characters and a wonderful storyline that will keep the reader turning the pages. The next book is The Way of Grace and I am looking forward to reading it.
The author is celebrating the release of book 5 in this series A Bridge Unbroken.