Mallory's mother died fifteen years ago. But her father's last words on the phone were unmistakable: "Find . . . mother." Shame and confusion have kept Mallory Davis from her home for the last fifteen years, but when her dad mysteriously dies on his mail boat route, she doesn't have any choice but to go back to Mermaid Point. Mallory believes her father was murdered and childhood sweetheart Kevin O'Connor, game warden in Downeast Maine, confirms her suspicions. But Kevin is wary of helping Mallory in her search. She broke his heart—and left—without a word, years ago. When Mallory begins receiving threats on her own life—and her beloved teenage daughter, Haylie—their search intensifies. There's a tangled web within the supposed murder, and it involves much more than what meets the eye. As answers begin to fall into place, Mallory realizes her search is about more than finding her father's killer—it is also about finding herself again . . . and possibly about healing what was broken so long ago with Kevin. She just has to stay alive long enough to put all the pieces together.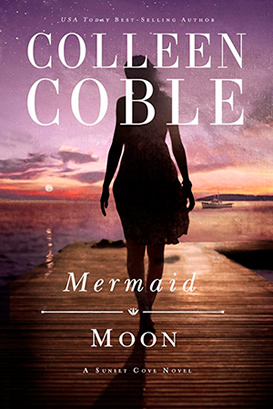 Published January 12th 2016
by Thomas Nelson
4 Stars
My Thoughts:
Colleen Coble takes us back to Folly Shoals, Maine for the second installment in the Sunset Cove series. Even thought this book is part of a series and have read the first book I do believe this is a stand alone novel. This is an endearing story full of mystery, suspense, romance

and family secrets.
The story opens with Mallory Davis landing a big sale as a jewelry designer and feeling on top of the world. She plans a celebration with friend and neighbor Carol until the phone call that shatters the world as she knows it. Mallory has faced many storms in her life, but this ma

y be one of hardest she will face yet.
With the death of her father she needs to return to Folly Shoals the one place she had escaped from 15 years ago and vowed not to return. On her arrival she comes face to face with her past, Kevin O'Connor, and memories she'd r

ather not deal with.
As important factors are brought to the surface it's apparent that Mallory's father has been murdered.

As Mallory begins to investigate a mystery emerges that someone wants kept quiet and will go to any lengths to see that it does.
This is a gripping suspense/mystery interlaced with a romance. The plot readily pulled me in and flows effort

lessly.

. This is a wonderful story. I did enjoy the characters. They are strong and well developed. The romantic tension between Mallory and Kevin start early in the story and allude the their past relationship. Their emotions are r

aw and real.
I would recommend this

book to anyone.
* I received this book from the publisher through Netgalley and I thank them for this opportunity. All opinions e

xpressed are my own.
Available for Purchase:
Amazon | Barnes & Noble | ChristianBook
Meet the Author: