Where better to rebuild and face one's fears than in 1906 San Francisco, a city rising from the ashes? Ruby Marshall, a young widow, is certain she'll discover new purpose assisting her brother Robert with his cancer research, but she doesn't anticipate finding new love. Dr. Gerald Larkspur dreams of filling his empty home with family, but he'd always hoped it would be a wife and children. In the aftermath of the great earthquake, the rooms are overflowing with extended family and friends left homeless by the disaster. When Robert's widowed sister arrives, the close quarters seem close indeed. Ruby and Gerald's fledgling romance is put at risk when Gerald develops symptoms of the very disease they're striving to cure. Together they must ask--is it worth a second chance at love when time might be short?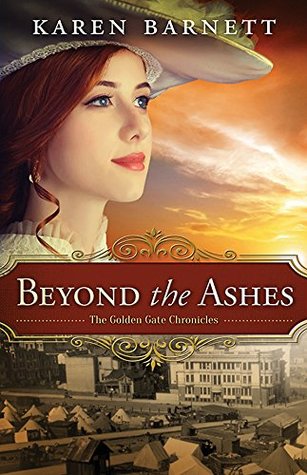 "For I know the plans I have for you," declares the Lord,
"plans to prosper you and not to harm you,
plans to give you hope and a future."
Karen Barnett has penned a story that takes place in San Francisco just after the great earthquake in 1906. We meet Ruby Marshall a young widow who lost her husband in an accident and has endured all the pity from friends she can handle. She decides to make her escape by traveling to San Francisco to help her brother in the aid work for the survivors of the earthquake. She is sure her nurse training will be beneficial. With communication being so sporadic she is unaware of just how badly damaged the area truly is.
Upon arriving Ruby is faced the aspect that she will be living in Dr. Gerald Larkspur's, her brother's mentor and partner, house along with not only her brother, but also with Dr. Larkspur and his family members. The next surprise is that her brother is engaged to be married to someone none of the family not only doesn't know, but also have never met. Lastly, she is faced with one of her greatest fears, automobiles.
Ruby's character impressed me early in the story. Instead of sitting around feeling sorry for her self she takes control of her life. I can only imagine how terrifying that must have been for her. I like the fact that she faced her fears head on and tried to overcome them.
Dr. Larkspur intrigued me. He was a very dedicated doctor and seemed to put his patients first. He develops an attraction to Ruby, but tries to ignore them. He's trying to develop the use of radiation in treatment of cancer. He recognizes Ruby's fears and instead of belittling her for them he chooses to help her try to overcome them.
This was a great read for me. I enjoyed the plot which was engaging from the first to the last page turned. The plot flows effortlessly. The characters are very complex with very real issues. There's a romantic tension the brings depth to the characters. Even though this book is listed as part of a series I found it to be a stand alone story as I have not read the previous book.
This book is a combination of history, romance, forgiveness, hope and faith. The message I received was one of hope and faith.
I would recommend this book to anyone who loves history or a good, clean romance.
Here is Karen in her own words telling us a little bit about Beyond the Ashes from her Video Cafe.
Inspired by God's devotion to His people and her own passion for research and learning, author Karen Barnett creates historical romances that explore her characters' faith and how their experiences impact the way they view God.
A graduate of Valparaiso University and Oregon State University, Barnett's debut novel, Mistaken, was released in 2013 and earned her the Oregon Christian Writers "Writer of Promise" award. A former park ranger, she loves getting out into God's creation. She spends her free time taking photographs, dragging her kids through dusty history museums, decorating crazy birthday cakes and watching movies.
Karen, her husband and their two children live in the beautiful Pacific Northwest.
Connect with Karen Online:
Her books are available for purchase at:
Check out her next book set to be released in May 2016.
Releases 5/2016 from Abingdon Press.
(ISBN-10: 1426781458, ISBN-13: 978-1426781452)
Pre-orders available now!
As San Francisco rises from the ashes, an age-old battle looms between corruption and the promise of new beginnings.
The devastating earthquake is just two years past, but the city of San Francisco is still trying to recover. Destruction of this magnitude is not so easy to overcome-and neither are the past regrets shadowing Elizabeth King's hopeful future.
Hoping to right her wrongs, Elizabeth dedicates herself to helping girls rescued from slavery in Chinatown brothels, even if it means putting her own life at risk to sneak through the gloomy alleys and rooftops where dangers lurk.
Putting her life on the line for a worthy cause is admirable. But opening her heart is even more terrifying. So when Elizabeth meets attorney, Charles McKinley—a man who dreams of reforming San Francisco's crooked politics—Elizabeth begins to doubt: Can she maintain her pretense and hide her past? Or will her secret jeopardize both their futures?