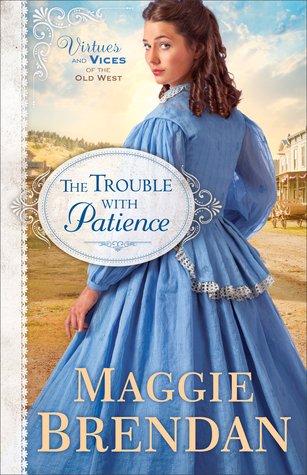 Publisher: Revell

Let me give you a brief description of this story:
Patience Cavanaugh has lost hope in romance. The man she yearned to marry is dead and her dreams are gone with him. Now she is consumed with the restoration of a dilapidated boarding house in order to support herself. Despite her desire for solitude, Jedediah Jones, the local sheriff with a reputation for hanging criminals, becomes an ever-looming part of her life. It seems like such a simple arrangement: Patience needs someone with a strong back to help her fix up the boardinghouse, and Jedediah needs a dependable source of food for himself and his prisoners. But Patience gets more than she bargained for as she explores the depths of the "hanging lawman"--and finds both betrayal and love.
This is a historical romance interlaced with a little mystery set in the Montana Territory. I immediately fell in love with both the characters and storyline. This is a story about faith, forgiveness and trust. Patience has recently moved to Nevada City to start a new life after receiving an inheritance from her grandmother. I immediately liked her and could see her as someone I would call my friend. She has a great faith in God and is willing to share it with anyone. She shows strength just by moving to a new area where she essentially knows no one to start a new life. Jedediah is at heart a very caring man. I picture him in my mind as a strong, silent type. He has a past that he's not real proud of and is working on being a better person. I loved how the author weaves the story to reveal both characters' strengths and weaknesses. It makes them more real for me. She also does an excellent job bringing the history of the area to life. This is the first book I've read by this author and will definitely read more. This is a wonderful book and I would recommend it to anyone. I received this book from Netgalley for a honest review without bias as stated above. All opinions and thoughts are my own.
Let me introduce the author:

Maggie Brendan
is a CBA bestselling author, and has sold over 300,000 books of historical romance. She is a winner of 2014 Book Buyers Best/ OCC/RWA -inspirational, 2013 Laurel Wreath Award, was a 2013 finalist for the Published Maggie Award of Excellence, a 2014 and 2013 finalist for the Heart of Excellence Readers' Choice Award, a 2012 finalist for Inspirational Reader's Choice award and a recipient of the 2004 ACW Persistence Award in Atlanta. She is a member of the American Christian Fiction Writers (ACFW), The Author's Guild, Romance Writers of America (RWA), Faith, Hope and Love, and Georgia Romance Writers. Maggie's series are Heart of the West and The Blue Willow Brides and Virtues and Vices of the Old West.
You can follow Maggie on her website

www.MaggieBrendan.com

, her blog

www.SouthernBelleWriter.blogspot.com
Twitter @MaggieBrendan
Facebook

https://www.facebook.com/MaggieBrendan?ref=hl

.