WYOMING COWBOYS:
Following their hearts home
Published September 19th 2017
by Love Inspired
Coming Home for Christmas
Wedding planner Lexi Harrington needs a manager for her inherited Wyoming ranch.
Clint Romine is the perfect man for the job, but the ruggedly handsome cowboy soon presents a new dilemma-distraction. Lexi can't fall for a small-town rancher when she's planning to return to her big-city career after the holidays. Home has always been elusive for former foster kid Clint. Working alongside Lexi at Rock Step Ranch feels too cozy-and too risky. Opening up to her means revealing a secret about his past that could jeopardize everything he holds dear. This Christmas, can Clint learn to trust Lexi with the truth.....
Available for Purchase:
Jill has several giveaways associated with this book release.
The first one: (Just click on the link)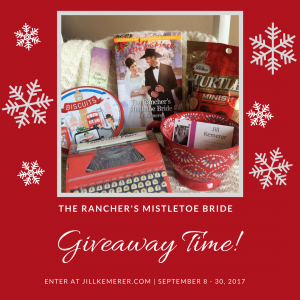 One true large print signed copy of

The Rancher's Mistletoe Bride

A cowboy-ish coffee mug
The most adorable typewriter memo pad I've ever seen
A bag of chocolates–yum!
A super cute tin of biscuits
Entry options are really easy. The giveaway starts on September 8, 2017 at 5am EST and ends on September 30, 2017 at 9pm EST. Full rules are in the entry form. US Residents 18+
Jill is offering the opportunity to win 4 books on Goodreads.
The giveaway runs from Sept. 19 - Oct. 13, 2017.
Meet the Author:
Jill Kemerer writes contemporary romance novels with love, humor and faith. A full time writer, she relies on coffee and chocolate to keep up with her kids' busy schedules.
She
grew up in the country in Michigan and now reside in a picturesque little town in Ohio. Our family has moved a lot over the years, and we realized we don't mind living near a city, but we don't want to live in one! My husband and I were high school sweethearts, and we have a daughter in college and a son in high school.
Nature inspires me. We're blessed to live near beautiful parks, and if the weather cooperates, I take long walks outside. Some of my best plot twists pop into my head on these walks. Love when that happens!
My books contain a blend of love, humor, and faith. I adore romance! And I can't help it–life makes me laugh. But what really defines me is my faith. John 3:16 sums it up best, "For God so loved the world that he gave his one and only Son, that whoever believes in him shall not perish but have eternal life."
Connect Online:
My Thoughts:
This is a sweet romance filled with lots of real life questions/worries/stress. This is the first book in her new Wyoming Cowboys series. I am officially hooked and looking forward to the next book. I must admit when I picked this book up I couldn't put it down until the last page was turned so for me it was a one sitting read.
This story is set in Sweet Dreams, Wyoming, but most of the story takes place on Rock Step Ranch. As the story opens we meet Clint Romine heading to Rock Step Ranch for a job interview with the new ranch owner, Alexandra (Lexi) Harrington, who he attended high school with. Lexi and Clint are both complicated characters, but they felt so real to me. Lexi has recently and suddenly lost her father. She is not only dealing with her grief, but she also has to figure out how to keep the ranch running, because she has her own thriving business in Denver that she needs to get back to. Clint has had set backs in his life that has shaped him into the man he is. 5 years ago he lost his own ranch and the loss of his dream has changed him.
I was drawn into this sweet plot immediately. For me it was a spectacular real! The author does a great job weaving words together to bring the plot and characters to life with her imagery. The friendship between Clint and Lexi is conveyed in a very genuine way. The characters are complex and have real issues, but they are resolved realistically. This story has elements of grief, trust, romantic tension, second chances, crisis of faith and love. This is a book I would recommend to anyone who loves a clean, feel good romance.
**I received this book from the author. I was not required to write a review. All thoughts and opinions are my own.
Do nothing out of selfish ambition or vain conceit. Rather, in humility value others above yourselves, not looking to your own interests but each of you to the interests of the others.
~ Philippians 2:3-4