Old things have passed away....
all things become new.
Oh my what an endearing story of past meeting present. This is the story of The Wedding Shop which is located in Hearts Bend, Tenn. and was established by Miss Jane Scott in 1890. Upon her death in 1925 she left the shop to her niece Cora who ran it until 1979.
Two women separated by decades. Both set out to help others find their dreams when their own have crumbled.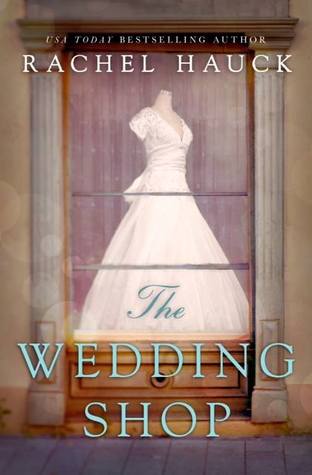 It's the early 1930s, but Cora Scott is walking in stride as a career woman after having inherited her great aunt's wedding shop in Heart's Bend, Tennessee, where brides come from as far away as Birmingham to experience her famed bridal treatment. Meanwhile, Cora is counting down the days until her own true love returns from the river to make her his bride. But days turn into months and months to years. All the while, Birch Good continues to woo Cora and try to show her that while he is solid and dependable, he can sweep her off her feet.

More than eighty years later, former Air Force Captain Haley Morgan has returned home to Heart's Bend after finishing her commitment to military service. After the devastating death of her best friend, Tammy, and discovering the truth about the man she loved, Haley is searching for her place in life.

When Haley decides to reopen the romantic but abandoned wedding shop where she and Tammy played and dreamed as children, she begins a journey of courage, mystery, and love.

As Cora's and Haley's stories intertwine through time in the shadow of the beloved wedding shop, they both discover the power of their own dreams and the magic of everyday love.
Published August 16th 2016
by Zondervan
Available for Purchase:
Amazon
Barnes & Noble
ChristianBook
Books-a-Million
Meet the Author:
Rachel Hauck is a New York Times, USA Today and Wall Street Journal Bestselling, and award-winning author.
A graduate of Ohio State University with a degree in Journalism, Rachel worked in the corporate software world before planting her backside in an uncomfortable chair to write full-time in 2004.
She serves on the Executive Board for American Christian Fiction Writers and leads worship at their annual conference. She is a mentor and book therapist at My Book Therapy, and conference speaker.
Rachel lives in central Florida with her husband and pets, and writes from her two-story tower in an exceedingly more comfy chair. She is a huge Buckeyes football fan.
Connect Online:
Website
Facebook
Twitter
Goodreads
My Thoughts:
I loved this story!!!
It was fascinating how the author transitioned from past to present with ease.
The prologue takes us to Hearts Bend where we meet both Cora and Haley, one is 1996 and the other swept me back to 1930. The common denominator is The Wedding Shop which was built by Akron Developers. I fell in love with the concept of The Wedding Shop immediately.
Haley was the youngest in her over achieving family and tended to be teased/picked on a lot by her older brothers, and she knew from an early age that she was going to defend others, help people and stand up for the picked on. I knew I would be cheering this young lady on through out the book.
Cora had worked in The Wedding Shop with her aunt and in 1925 she became the official owner. She had help from her seamstress, Odelia, and Esme`, her mother and hostess. Cora dreamed of her own wedding one day and that would be to a handsome riverboat captain.
As the story opens we see Haley at a crossroads of her life, trying to decide which direction she should take. She was immediately drawn to a building that she had spent her youth playing in with her best friend, Tammy. It was run down and in need of many repairs, but all she could see in her mind was what it once was. Cora Scott had brought something regal and glamorous to the country and farm women in their day, but Haley would find out that she brought something more than that to a bride as she stepped out on the mezzanine and descended the grand staircase for her family and friends to see her in her wedding finery.
As the story unfolds we see how Cora builds a legacy through love and dedication and how Haley wants to preserve the legacy by opening the shop back up in the same tradition as when Cora ran it. Each will face complications neither anticipated, but will learn that the greatest gift of all is love.
This is the second installment in the Hearts Bend series, but I would definitely say it's a stand alone story. As with any book in a series I recommend reading the other books in the series to get the full impact. This is a book I would recommend to anyone. It has elements of crisis of faith, forgiveness, a sense of community and family, history and most of all love.
**I received this book free from the publisher through the BookLook Boggers book review bloggers program. I was not required to write a positive review. The opinions I have expressed are my own. I am disclosing this in accordance with the Federal Trade Commission's 16 CFR, Part 255.