Have you ever gotten to the place where you just couldn't take it anymore? Dreams. Programs. Jobs. Relationships. There are so many different areas where we feel like calling it quits. It's time for an honest conversation on how not to give in to the temptation to give up. Nicki Koziarz is a woman who has thrown in the towel a time or two. In fact, she's quit just about everything in her life. But with God's help, she's discovered a few habits that have helped her and others conquer the choice to quit. 5 Habits of a Woman Who Doesn't Quit will enable you to:
Evaluate the internal personal struggles that make you want to quit.

Cultivate consistent habits to help you progress toward your goals.

Receive a fresh dose of perspective from the Bible that will help you develop perseverance.
You are not made to quit! Join Nicki as she identifies five habits to help you keep going no matter what struggles may come your way.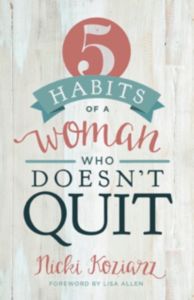 Expected publication: March 1st 2016
by B&H Books
5 Stars
My Thoughts:
Nicki Koziarz

brings us a book that is a must for every woman to read/study!!!
To be honest when I received this book I looked at it and thought 197 pages, no big deal. I'll finish it i

n 2 days.
Wrong!!!
I say this because yes, it would have been easy for me to have read it in 2 days, but from page 1 I was drawn into this book. I found myself not just reading this, but absorbing it. It was so thought provoking that I

would just stop and reflect on all I had read, then go back and reread sections.
Let me tell you a little about the book.
-As I said it's 197 pages in length.
-It is divided into 5 sections

where each deal with a habit.
-Each section consists of two chapters

.
-At the end of each chapter there is a section called Make It Stick which highlights importan

t messages from the chapter.
-Then next comes To Be Hones which are questions for self

reflection.
-At the end of the book Nicki has included Quitting Questions

Verses
-Lastly the book ends with 5 Questions you should ask yourself before you qui

t something.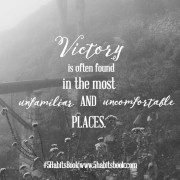 My book was so pristine and bright when I first received it, but now it would look pitiful to anyone, but maybe me. I began underlying passages and jotting notes in the margin

s

. As I began reading the first thing I noticed was how the author opens her heart and shares. Suddenly it was like

I

was having

a conversation with a friend. Her story touched my heart and made me ask myself questions. Am I a quitter? Yes, but what's worse am I teaching my ch

ildren to be quitters by example?
There are many heroines of the Bible that we can take virtues from and apply it to our lives. The author chose Ruth. Have you ever read the book of

Ruth?
For me when I think of Ruth constancy, truth and justice come to mind. Actually this book has opened my thinking about her. I was reminded of faithful obedience

.
This is a book that I will reference time and again, especially when I think I'm about to quit or give up. Yes, I will ask those five questions and pray to seek his guidance even in the smallest of things, like picking up my child from school. Yes, this book transformed my thinking and thereby me. It helped me identify areas of my life that I basically had given up on or didn't want to do the work necessary. I could identify who I truly wanted to be then made goa

ls to get there and started my journey.
Also, there is a companion Bible study book available to go with this book if you are interested in doing a study group

for this book.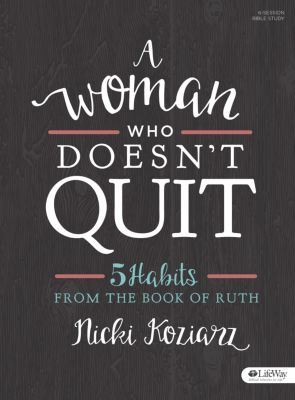 This is a book I would recomm

end to anyone.
* I received this book from the author via the publisher for a honest review without bias or outside influence

and was not required to write a positive review.
Available for Purcha

se:
Amazon | Barnes & Noble | ChristianBook
Lifeway
Meet Nicki:
Nicki Koziarz is an author and speaker with Proverbs 31 Ministries. Each week she helps lead thousands of women through P31 Online Bible Studies. She and her husband, Kris, own a fixer upper farm just outside Charlotte, North Carolina. There they are raising their three beautiful [but hormonal] daughters, a barnyard of misfit animals, and one slightly famous pug. After a broken experience in the church, Nicki is consumed with learning to lead her generation on the pursuit of truth and love.
Connect with Nicki:
Website
Facebook
Twitter
Instagram
Pinterest
YouTube