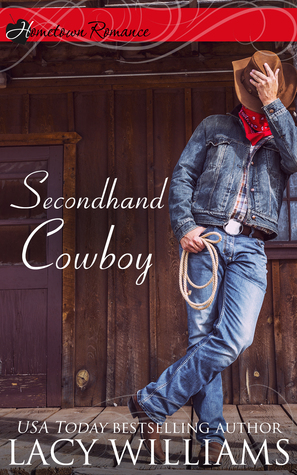 Publisher: Redbud Press
Redbud Press is releasing a new book by Lacy Williams March 24, 2015. I was lucky enough to receive a copy early to review. I have enjoyed Lacy's writing previously so I wasn't surprised that I loved this book. Here's a general book description:
Iris Tatum hasn't seen her high school sweetheart Callum Stewart since he left years ago without a single word. Then she witnesses an horrific hit-and-run accident, and comes face to face with her past–and Cal's triplets. A volunteer paramedic, Iris can't walk away. No matter how much she wants to.

Bull rider Callum Stewart was run out of town at age twenty and vowed never to return. Only one thing could bring him back: building a future for his sons. Now, thanks to the accident that left him with a broken leg—he needs help to care for his boys. He has no choice but to accept Iris's grudging help.

As they rediscover a friendship–and the sparks that never faded between them–Callum's secrets are brought back with a vengeance. How can they keep the past from destroying their future?
Here are my thoughts on the story:
Lacy Williams brings us a contemporary romance about second chances and trust. We are introduced to two characters that will definitely tug at your heart. Iris Tatum is a beautiful, young woman who has experienced heartache at a young age. First at the loss of her mother at a young age and then when Callum Stewart walks out on her. With a setback in her career and the loss of her Uncle Joe her life finally seems to settle, but suddenly she discovers her sister has been diagnosed with breast cancer. Iris is a woman who keeps getting knocked down, but she when she rises up she vibrates with strength. Callum fell in love at an early age and his greatest hope is to spend the rest of his life with Iris, but when he watches her dance he knows she's destined for bigger and better things than he can offer. Being noble he walks away one night, but left his heart with her. Both characters are easy to love, but not without endearing flaws such as independence and stubbornness. I loved the storyline which flows easily and will draw the reader in. I would recommend this book to anyone.
Let me introduce you to Lacy: