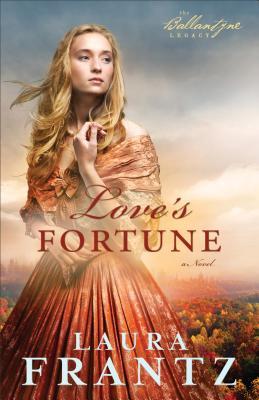 Take I the morning wings, and dwell in utmost parts of the sea;
Ev'n there, Lord, shall they hand me lead,
thy righ hand hold shall me.
Sheltered since birth at her Kentucky home, Rowena Ballantyne has heard only whispered rumors of her grandfather Silas's vast fortune and grand manor in Pennsylvania. When her father receives a rare letter summoning him to New Hope, Rowena makes the journey with him and quickly finds herself in a whole new world--filled with family members she's never met, dances she's never learned, and a new side to the father she thought she knew. As she struggles to fit in during their extended stay, she finds a friend in James Sackett, the most valued steamship pilot of the Ballantynes' shipping line. Even with his help, Rowena feels she may never be comfortable in high society. Will she go her own way . . . to her peril?
With her signature attention to historical detail, Laura Frantz brings 1850s Pennsylvania alive with a tender story of loss, love, and loyalty. Fans will cheer for this final installment of the Ballatyne saga.
My Review:
Laura Frantz brings us a historical romance with a hint of suspension. Her use of vivid imagery brings the story to life and pulls the reader in. The plot flows effortlessly and kept me turning the pages. Even though this is the third book in the series, it's easily a stand alone novel. Her well developed characters weaved their way into my heart. Rowena "Wren" Ballantyne has just lost her mother and is dealing with many emotions, but lets music soothe her soul. Dealing with her grief suddenly the life she knows goes under a drastic change. Your strength of character, courage and faith emerge during difficult times. I was amazed at what I saw in Wren. I would recommend this book to anyone. I received this book from Revell via the Book Club for and honest review without outside influence.
I was born and raised in Kentucky, living first in Ashland, Mammoth Cave, Bowling Green, and then Lexington. But my heart has always been in Berea, Madison County, the place my family has resided since the 18th-century. I came to know Christ there at the age of 12, was baptized, and spent my childhood roaming through the woods and swimming in the rivers of my books.
My earliest memories are of the public library, standing in front of shelves filled with those little biographies of famous historical figures like Daniel Boone and George Washington and Sacajawea. I began scribbling stories at age 7 and thankfully never stopped. My passion then and now is history and all the wonders of past centuries.
I attended college at Denison University in Ohio and also in England, living in a manor/castle and studying the American Revolution from the British perspective. Shakespeare and 18th-century literature form the backbone of my English degree. Strangely enough, I only took one creative writing class.
It was never a desire of mine to be published. I simply love to write for the sheer joy of writing – and that was enough. But as Proverbs 16:9 says, "The heart of a man plans his way, but the Lord establishes his steps."