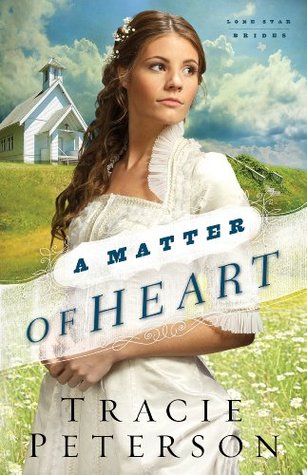 Book Description
Beloved Author Tracie Peterson Concludes Her Popular LONE STAR BRIDES Series
Texas born and raised Jessica Atherton is a wealthy young woman whose heart was broken when the man she intended to marry wedded another. But her world is upended when two men come into her life and both manage to stir her heart. Harrison Gable is a rich young lawyer who intends to travel the world and live a life of opulence. His ambitions match Jessica's dreams, but her heart has begun to change.
Austin Todd, former Secret Service agent, enjoys working now as a Texas Ranger cattle inspector. But learning of forged gold certificates and missing printing plates, he's drawn back into the world of intrigue and agrees to help solve the case. Austin is well-thought-of and admired in the community. Jessica is drawn to his kind nature and the unspoken pain she sees in his eyes.
Will Jessica choose financial security or follow her heart?
My Review
Tracie Peterson brings us a heartwarming romance that takes place in the late 1800's in Texas. Her in depth research brings us vivid imagery that will pull the reader into the story and her well developed characters will keep them turning the pages. This is a sweet romance with a hint of suspense, but it also reminds us that no matter what may happen in our lives that God is always with us. We meet two characters that feel as if God no longer is there for them for a variety of reasons only to learn that he didn't move, they did. Each must work to fin their way back to God. For one all it takes is looking in the mirror and not liking what they see, and another must learn about forgiv
eness.
When I first meet Jessica Atherton I must admit to not liking her very much. She appears spoiled and expects to have anything she wants. There's so much more to her than meets the eye. Beautiful, yes. Wealthy, yes. Scared, yes. Lonely, yes. A big heart, yes. I come to realize that Jessica is a lot like other young women in the world. She is judged by what others see as the outer package instead of her heart and this hurts her immensely.
Austin Todd has known heartbreak and tragedy. He has sealed his heart off from loving or caring for anyone. Of course he sees Jessica as not only a beautiful woman, but he also sees her honesty. He's very attracted to her, but knows that she is a danger to his very closed off heart.
I was given this book by Bethany House for a honest review free of bias or outside influence as stated above.
Meet the Author
http://traciepeterson.com