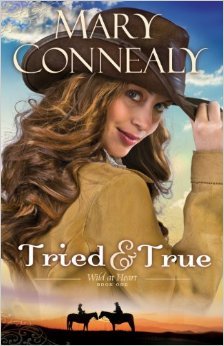 A man's heart plans his way, but the Lord directs his steps.
-Proverbs 16:9
Kylie Wilde is the youngest sister—and the most civilized. Her older sisters might be happy dressing in trousers and posing as men, but Kylie has grown her hair long and wears skirts every chance she gets. It's a risk—they are homesteading using the special exemptions they earned serving in the Civil War as "boys"—but Kylie plans to make the most of the years before she can sell her property and return to the luxuries of life back East.
Local land agent Aaron Masterson is fascinated with Kylie from the moment her long hair falls from her cap. But now that he knows her secret, can he in good conscience defraud the U.S. government? And when someone tries to force Kylie off her land, does he have any hope of convincing her that marrying him and settling on the frontier is the better option for her future?
Mary Connealy is one of those authors that I know always writes a wonderful story and she didn't disappoint this time either. Her vivid use of imagery brings this story to life and pulls the reader in quickly. The fast paced storyline kept me turning the pages until the last page. She brings strong, well developed characters that I immediately liked. In this story, which is the first of the Wild at Heat series, she introduced us to 3 sisters who out of necessity have worked and tried to act as me. Since this story is historically set in the Utah Territory in 1866 their charade come with numerous complications. The youngest, Kylie, reminds me of a lot of women. She has a strength inside her to overcome any obstacle, but it certainly is nice to have someone to depend on for the dirty jobs, like killing snakes. She depends on her faith and trust in God to lead her in all things. I loved Aaron Masterson. After all he endured during and after the war, Aaron still tried to be a fair, loyal man. I look forward to reading the second installment, Now and Forever, in this series which will be released next year. I highly recommend this book to anyone. I received this book from Bethany House for a honest and unbiased review free from prejudice or outside influence as stated above.
She is a Carol Award

winner

, and a Rita and Christy and Inspirational Reader's

Choice

finalist.
She is the

author

of bestselling Kincaid Brides Series: Out of Control, In Too Deep, Over the Edge. Her work also includes Lassoed in Texas Trilogy, Montana Marriages Trilogy and Sophie's Daughters Trilogy.
She also wrote Ten Plagues--a romantic thriller, and The Historical Society Murders--three cozy mysteries, under the name Mary Nealy.
Mary is married to a Nebraska rancher and has four grown daughters and two spectacular grandchildren.